BR History
Back in the late 1950s, commuters travelling to the grand London terminus of St. Pancras from Bedfordshire towns along the Midland Mainline could be forgiven for feeling slightly underwhelmed and short changed. It was dark, dirty, and unwelcoming, and that was well before the threat of closure and demolition which was to rear its head a few years later, and a far cry from its bright and airy, present day 'International' status. It wasn't all bad, however, as British Rail had chosen to make some investment by improving the services from the station. Alongside the exciting, premium and cutting-edge 'Blue Pullman' trains ran our humble, but no less cutting edge for the time, Class 127 Diesel Multiple Unit (DMU), introduced to provide a new regular interval service along with a 10% reduction in journey times.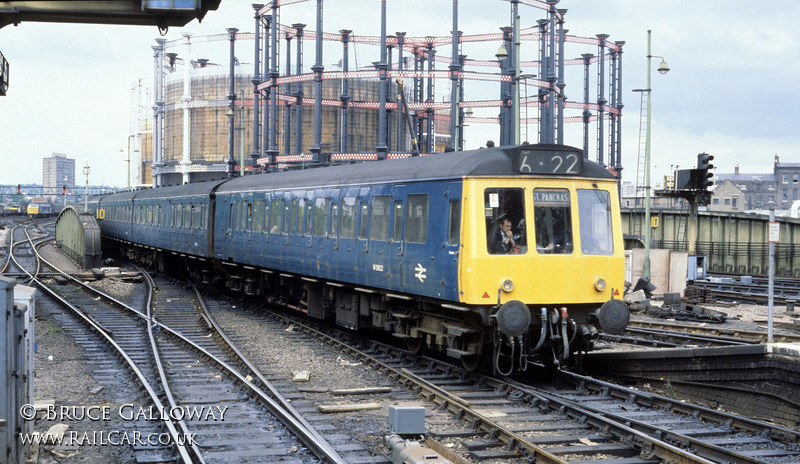 Class 127 DMBSM51622 leads a Derby built 4-car unit into St. Pancras, no doubt with a service from Bedford, on 5 July 1980. (Click here to view the image on flickr (opens in a new window))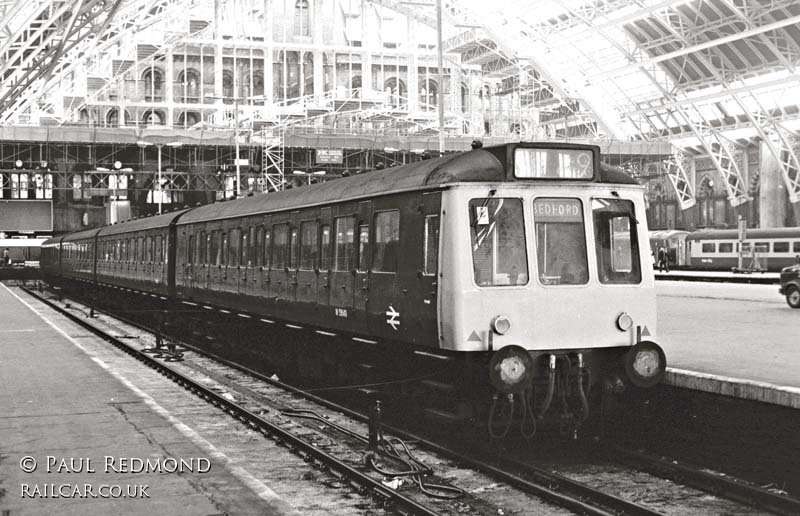 A class 127 DMU with M51649 closest in St. Pancras Station circa early 1980s. (Click here to view the image on flickr (opens in a new window))
The first four-car Class 127 DMU ran into London St. Pancras on the 14th May 1959 on a crew training run, and from its introduction in 1960 to its retirement in 1983, our Class 127 would have been seen departing from the very same platforms as today's Eurostar trains to Paris and Brussels. For commuters who used the route every day, the introduction of these DMUs on services between Bedford and London St. Pancras (which is where their nickname 'Bed-Pans' came from) would have made as much a transformation to their daily journeys as has been made to St. Pancras station itself since.

The bright, airy and well-lit saloons featured all the mod-cons of the 'Atomic Age': fluorescent lighting, bright yellow patterned Formica panelling, marble-finish linoleum flooring, and stylish (for the day) striped moquette. These were the sort of things that visitors to the Ideal Home Exhibition at Olympia would have expected to find, not those commuting into work, and it was a significant step up in environment for passengers who were more used to boarding uninviting, damp, dingy, often cold and dirty steam-hauled compartment stock.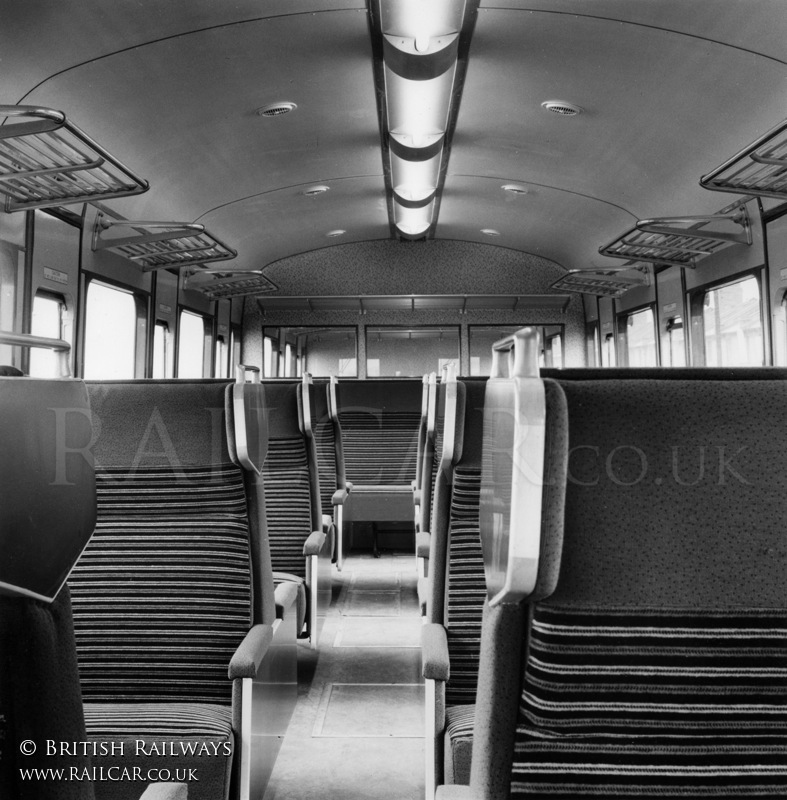 An official image (Sam Lambert Collection, negative unknown) showing the interior of M51591 (DMBS from a suburban quad set for St Pancras, later Class 127), circa May 1959. This is taken at the cab end looking towards the van (behind the solid bulkhead). A swing door would later be added to the bulkhead with the windows (and a seat removed on either side).
Thirty Class 127 DMUs were built at British Railways' Derby Litchurch Lane works. They were delivered as four-car sets, each comprised of two DMBS vehicles (Driving Motor Brake Second), one at each end, a TS (Trailer Second) and a TSL (Trailer Second with Lavatory). Passengers had to pick the right vehicle if they needed to use the toilet! The units were built to a conventional BR design, comprising of the underframe made of welded mild steel and a body of sheet steel, with a 'top-hat' section steel frame underneath to support the bodywork. The vehicles measured 63'5" (about 20m) long.
The interiors were of the 'high density' design, with "3+2" seating. They were built without gangways between vehicles, or indeed doors between saloons, as was the norm for units intended for short to medium distance, suburban use.
What makes the Class 127 of special interest, and indeed a very important part of the Llangollen Railcars collection, is that aside from being the only vehicle of high-density layout we have, it has Rolls-Royce engines, and is our only vehicle to feature a hydraulic transmission. The 238HP engines, of which there are two per DMBS, giving a total of 4 engines per 4-car set, were built at the Rolls-Royce Oil Engine Division's Sentinel Works in Shrewsbury, and are each fed by a 95-gallon fuel tank, which when in service with BR, gave a range of approximately 500 miles.
The standard of the time was to fit mechanical transmissions to DMUs which included a gearbox, requiring the driver to change gears when accelerating or coasting. However, with the entire class being allocated to one specific route which was relatively flat and straight, it was considered to be more efficient to use a torque converter, which meant the driver merely had to select the 'Drive' position on the gear selector and notch up on the power handle!
Despite this, the Class 127 units were still fitted from new with the standard DMU 'Blue Square' multiple working system. This was identified as a hazard early on, as on the very rare occasions where a Class 127 was coupled to a standard mechanical transmission set of another class, there were incidents of the mechanical gearboxes being severely damaged as the driver, driving from the hydraulic Class 127, had forgotten to alter their driving technique so that the mechanical set could change gear!
To prevent any further incidents, the units were recoded as 'Red Triangle', which was purely a cosmetic change as their 'Blue Triangle' systems remained unchanged. This is still a very relevant issue today with our Class 127 DMBS, and as a result, our drivers must take the same amount of care when it is coupled up to any of our other, mechanical transmission sets.
Due to the non-standard mechanical nature of the Class 127 sets, along with the electrification of the route they were built to serve, they were earmarked for withdrawal in the early to mid-1980s. Having been displaced by the suburban electrification scheme on their St. Pancras to Bedford route after just over 20 years of sterling service, and with something over a million 'miles on the clock', ten sets spent a brief period operating the Gospel Oak-Barking line in North London. All of those were withdrawn by early 1984, but many of the centre, unpowered vehicles lasted a further decade in service, refurbished for a new lease of life in the West Midlands. Twenty-two power cars were converted to parcels cars, which involved the fitting of roller-shutter doors to the bodysides.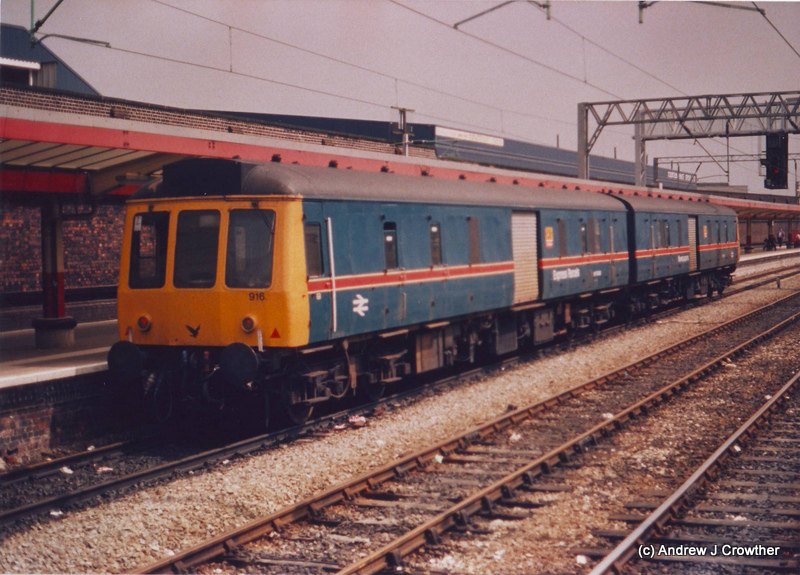 Following conversion to a parcels unit set 916 (55986+55976) is seen at Crewe on 11 June 1988. (Click here to view the image on flickr (opens in a new window))
The rest were unceremoniously stripped of useful parts and cut up at the infamous Vic Berry's scrapyard in Leicester.
51618 gained minor celebrity status by being part of the train (51618+59645+59615+51592) that was used for the Class 127 Farewell Tour on the 12th March 1983, taking a circuitous route around north and west London. See https://www.sixbellsjunction.co.uk/80s/830312lc.htm and https://www.flickr.com/photos/74009/4821926634/ for further information about, and pictures of, that tour.