BR History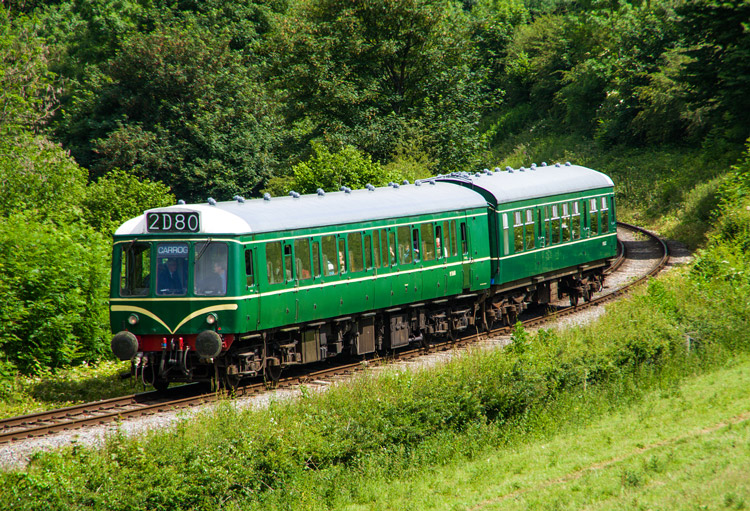 Built by British Railways at Derby in 1959 this Driving Motor Brake coach is an example of the long-wheelbase suburban design, which had high-density seating, with one door per seating bay, this facilitated the faster loading and unloading required by the suburban work. As such it is different to all the other vehicles in our collection.
It is fitted with an unusual mechanical configuration consisting of two underfloor Rolls Royce 238bhp eight-cylinder engines which drive the wheels through torque converters, therefore not requiring a conventional gearbox. This arrangement would become very common in DMUs built after 1984, so it could be said to have been over 20 years before its time.
Originally introduced for the Bedford to London St Pancras services in 1959 the four-car sets (formed DMBS-TSL-TS-DMBS) were given the nickname "BedPan" units. They remained on those duties until July 1983 when the line was electrified and they were replaced by electrical multiple units and withdrawn from service.
Prior to withdrawal, this particular vehicle formed part of the four-car set (51618+59645+59615+51592) that was used on the "Class 127 Farewell Tour" which was organised by the Locomotive Club of Great Britain (LCGB) and ran on 12th March 1983 (see https://www.sixbellsjunction.co.uk/80s/830312lc.htm and https://www.flickr.com/photos/74009/4821926634/ for further information).
Almost immediately after its withdrawal it was saved for preservation and moved to Llangollen, where it has now worked for longer than it did on the main line.