BR History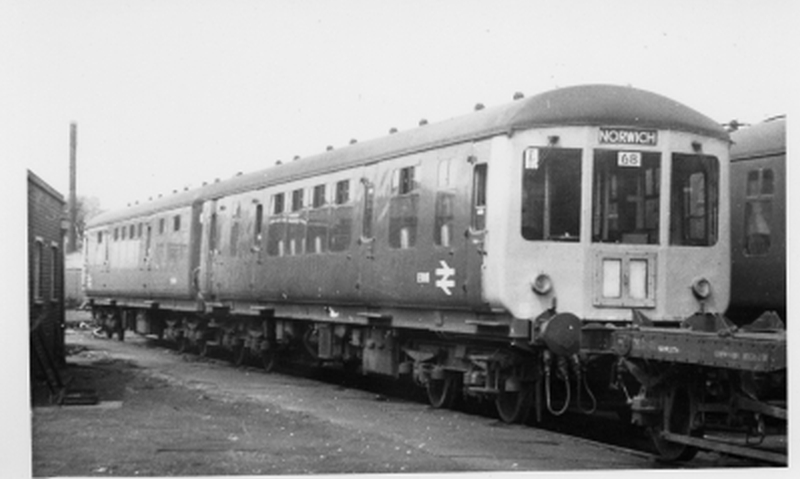 This is the only survivor of a total of 40 class 100 power cars built for the Scottish and London Midland Regions by the Gloucester Railway Carriage and Wagon Co. in 1957.
When British Railways commenced building diesel multiple units in 1954 lightweight construction had to be employed due to the limited power available from contemporary diesel engines. BR's own units extensively used aluminium to keep down weight but when outside contractors were invited to construct units to a roughly similar outline other solutions were offered.
The GRCW cars were constructed to a semi-integral design in which some of the load was taken by the steel structure of the coach sides and by the floor, thus enabling the elimination of a conventional chassis and lighter construction. The method of construction was unique to these cars which had a quite distinctive appearance and were readily identifiable due to their sharply raked in bottom body sides and unusual roof arrangement. Two batches of 20 each of these vehicles were built and our example is from the second batch, having the normal arrangement of lower marker lights on the cab ends. The power car is still fitted with its original AEC 150hp engines which drive standard mechanical transmission through a freewheel and fluid flywheel.
By the time these vehicles were delivered BR had refined its own "lightweight" design and did not order any further vehicles to this pattern. Over time the Gloucester vehicles suffered from corrosion problems, particularly under the windows, which were prone to admitting water into the body sides and were one of the classes slated for withdrawal as line closures accelerated during the late 1960s.
Our Gloucester power car, 51118, has had a remarkable history; 15 years in main line service followed by 18 years on heritage railways and finally a further 21 years in storage. Its restoration is currently in the early stages and no target has been set for its return to service.
Gloucester Co records show that 51118 left the works on December 18th 1957 as Sc51118, and was destined for the Scottish Region. In plain green livery with cream stripes it was initially allocated to 64A Edinburgh St Margaret's and was paired with 56310.
In Edinburgh it was used from February 1958 for the launch of diesel services on the suburban system, starting with the Corstorphine-Waverley-North Berwick route and the Galashields-Peebles-Waverley service. Services were extended to the Princes Street-Leith and the Mussleburgh routes later in the year.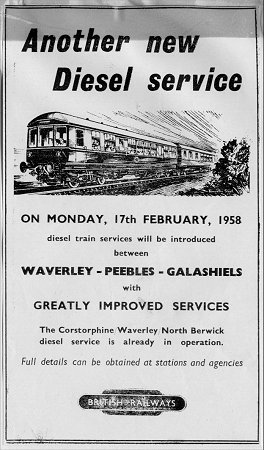 It moved on to Leith Central Depot in 1960 and then Glasgow Corkerhill in 1966 where it was employed on services between Glasgow St Enoch and East Kilbride. However, declining use of the railways in Scotland and route closures led to 51118 moving to Gosforth Depot in Newcastle where it was used to provide cover on the former Tyneside electric system which was being dismantled and returned to conventional operation at that time.
There was a further move, along with many of the other class members, to Norwich in July 1967 where it became E51118.By the early 1970s it had been painted in all-over blue livery with full yellow ends and was paired with trailer 56303.
As more units became surplus as a result of line closures the Gloucester cars were gradually withdrawn and 51118 was taken out of service in October 1972.