APPEAL: Please raise donations for Llangollen Railcars whenever you shop online!
Please consider turning your everyday online shopping into FREE donations that will help to support the maintenance and restoration of our railcars. You can do that by shopping via https://easyfundraising.org.uk/causes/llangollenrailcars/ or, in the case of Amazon purchases, signing up to Amazon's fundraising site https://smile.amazon.co.uk and choosing Llangollen Railcars as your chosen charity. Each eligible purchase will then result in the online store making a small donation to our charity. Every little helps so thanks in anticipation of your support!
General
Since the previous report, it has been a very busy period for us, both in terms of the provision of train services and the maintenance/restoration work carried out although we regret to report that the latter included some work that we had not bargained for...
When one of our drivers turned up for work on Wednesday 25 August he was dismayed to discover that two of our vehicles had been spray painted by vandals who, it was subsequently discovered, had gained unauthorised access to the site during the early hours of the morning.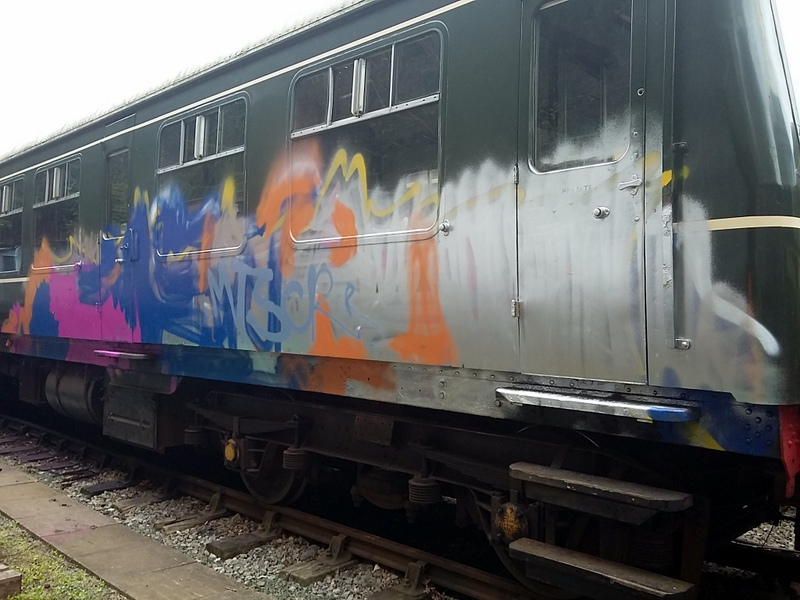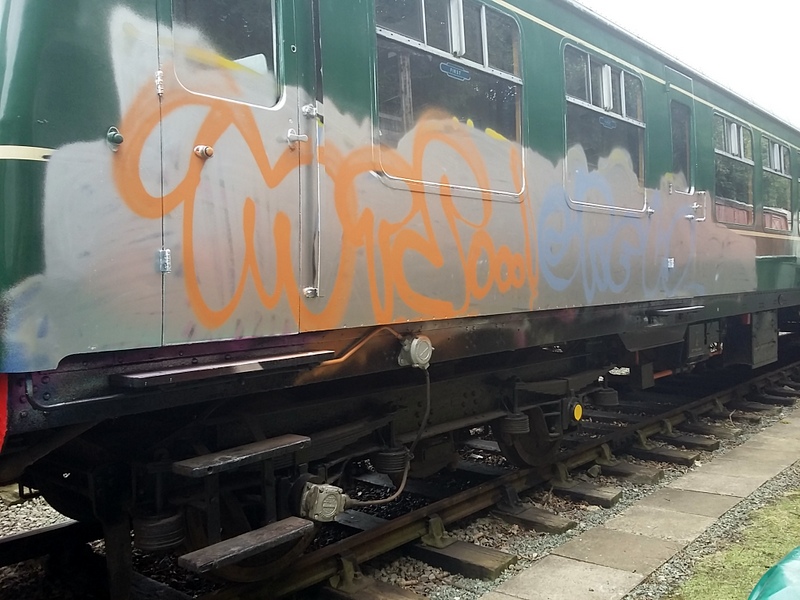 Fortunately, rapid heroic efforts by members of our group, helped by some other volunteers at Pentrefelin, using copious quantities of rags, solvents and "elbow grease" resulted in the removal of the graffiti with only minor damage to the paintwork...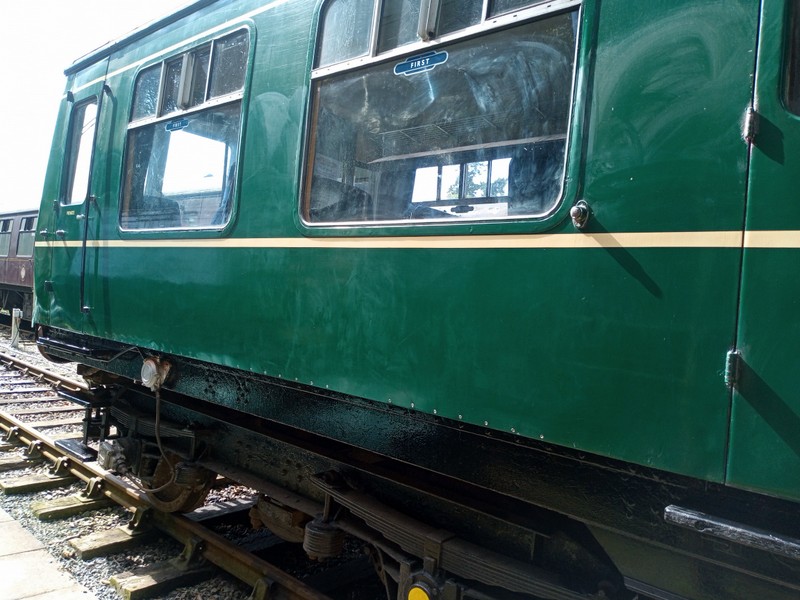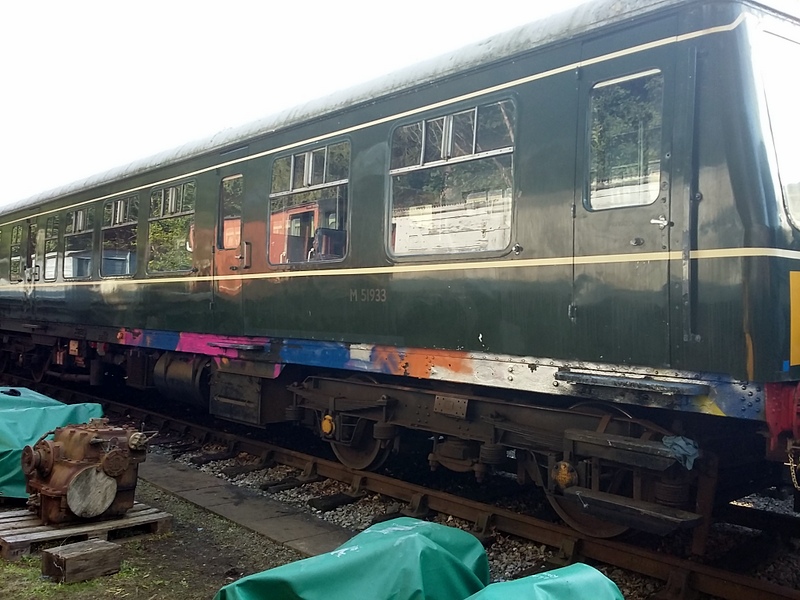 When the above picture was taken the solebar was still to be painted with some black paint to complete the job.
We are very grateful to all of those people who were prepared to drop everything and help to put things right in the nick of time. Needless to say the mindless vandalism resulted in time, effort and funds being diverted from more worthwhile things.
Information about the work that has been carried out on our vehicles at Llangollen and Butterley since the previous report can be found in the unit-specific sections below.
Out and About
Since train services reached Carrog once again on 21st August, the class 108 and the Wickham class 109 have, between them, run on fifteen days (at least two of which were added to our roster at short notice) and completed almost six hundred miles. All of that was done without incident, although there was one morning when the class 109 had to deputise for the class 108 which failed the 'fitness to run' examination due to an exhaust problem. According to the driver it "sounded like a boy racer's Corsa"!
On the 'associated fleet' front, the class 108 51907/54490, which spent many years based at Llangollen before moving to the Midland Railway, Butterley, carried an impressive number of people at its new home on Wednesday 5 September when it was used to shuttle people to Swanwick for an event organised by the local council. By the time the gates were closed after lunch for crowd-control purposes, it had transported 1600 people (or 3200 single journeys)!
Unit-specific work
Hybrid class 104 power car no. 50454 / Class 108 trailer no. 56223
A great deal of work has gone into preparing this recently-marshalled hybrid unit for use.
Internally the repairs to the vestibule ceiling and the guard's seat and surrounding area in 50454 are largely complete...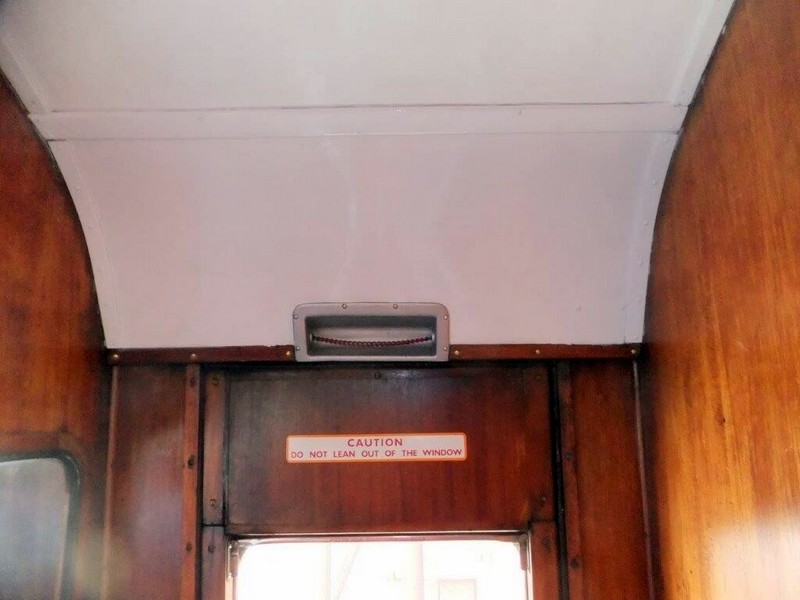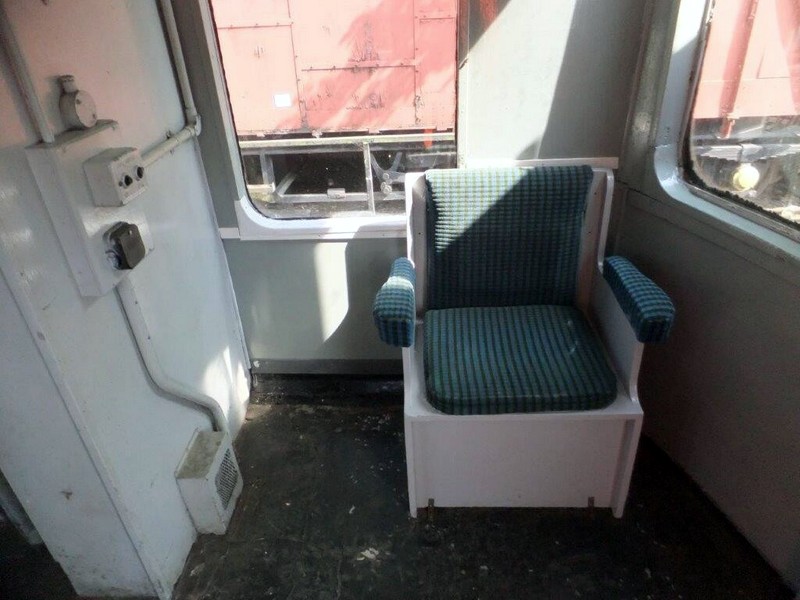 and the application of some whiter-than-white paint to some ceiling panels in 56223 has resulted in a significant improvement...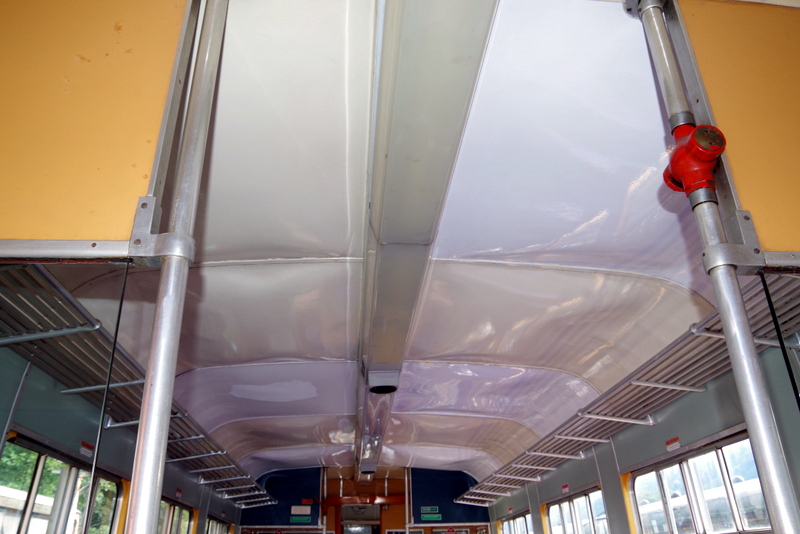 Externally, aside from the considerable effort needed to remove graffiti from 56223, as has already been reported above, paint was removed from the windows of both vehicles in keeping with the philosophy that, when the scenery is a selling point, it helps to be able to see it through clean windows...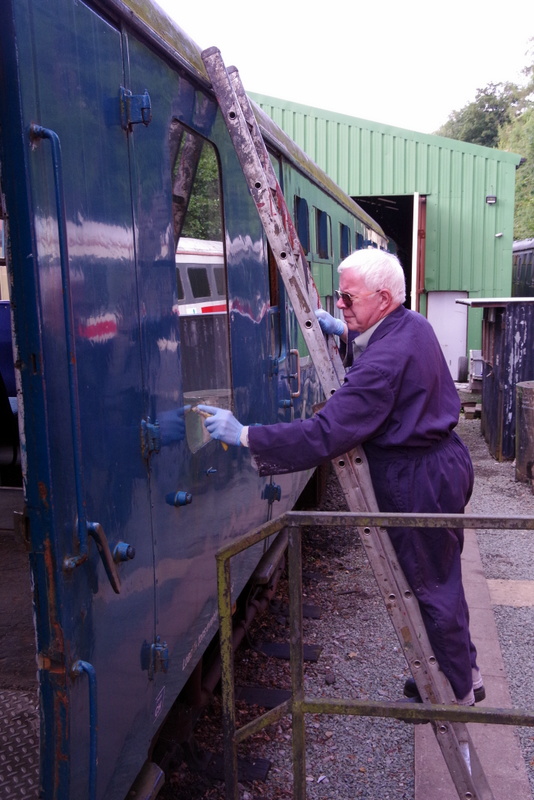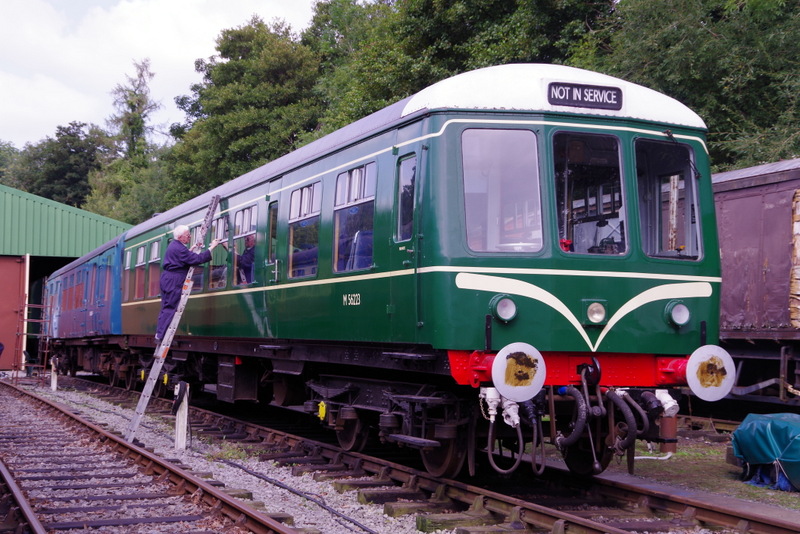 What started as some minor repairs to the bodywork of 50454 gradually turned into a larger-scale, multiple-day exercise of sanding, filling and painting with undercoat.
Having discovered a hole in the bodywork we got someone to look into it...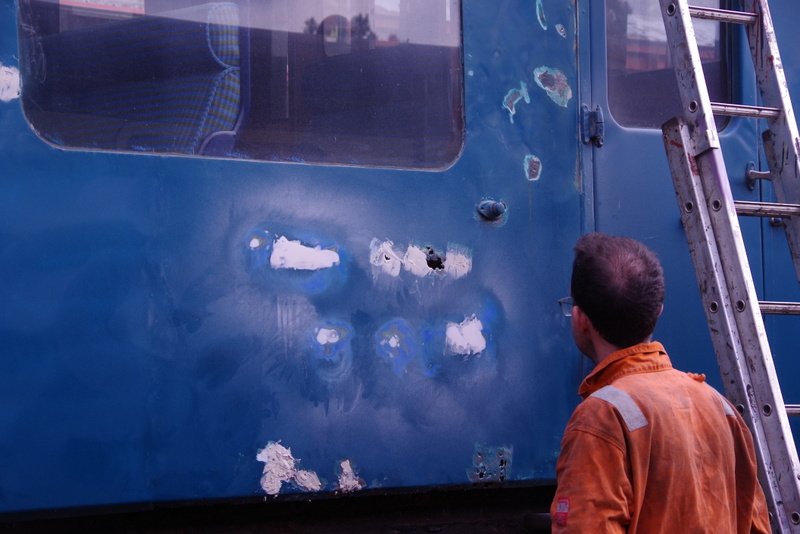 Uugh - sorry - that was bad even by my standards but I couldn't resist it.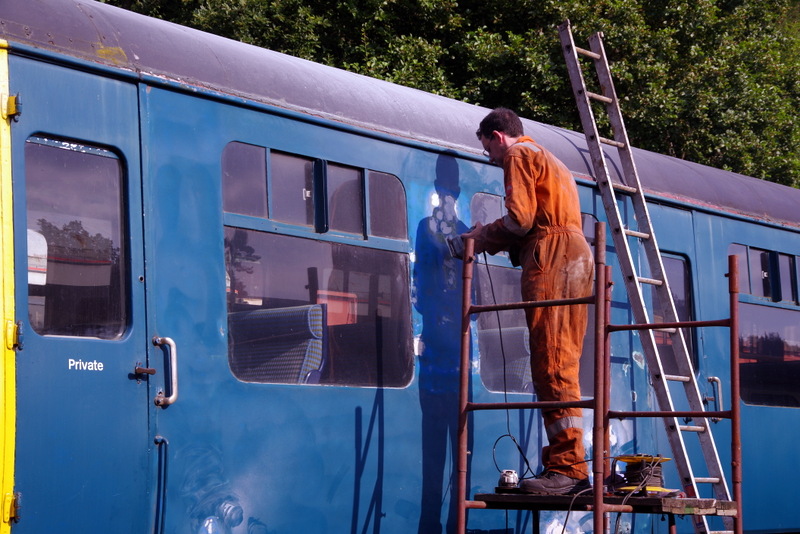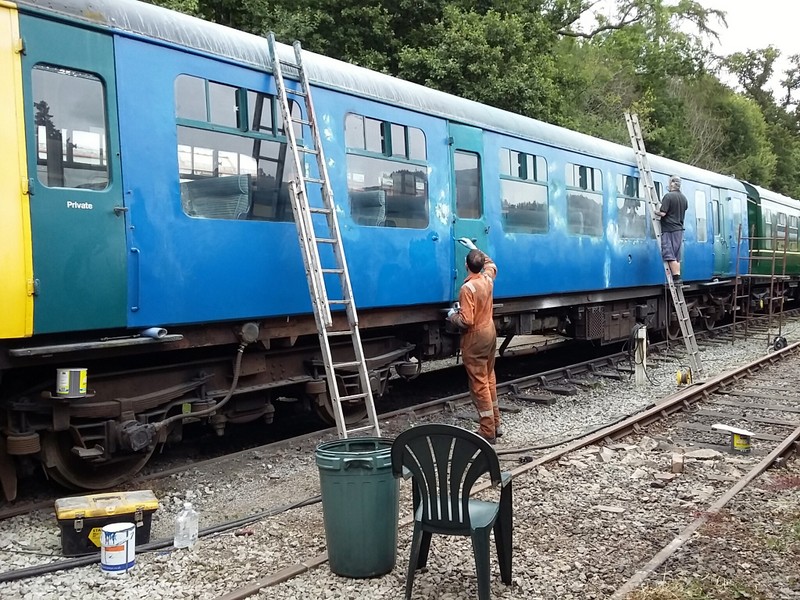 With all of that work taking place the resident spider was presumably beginning to get nervous...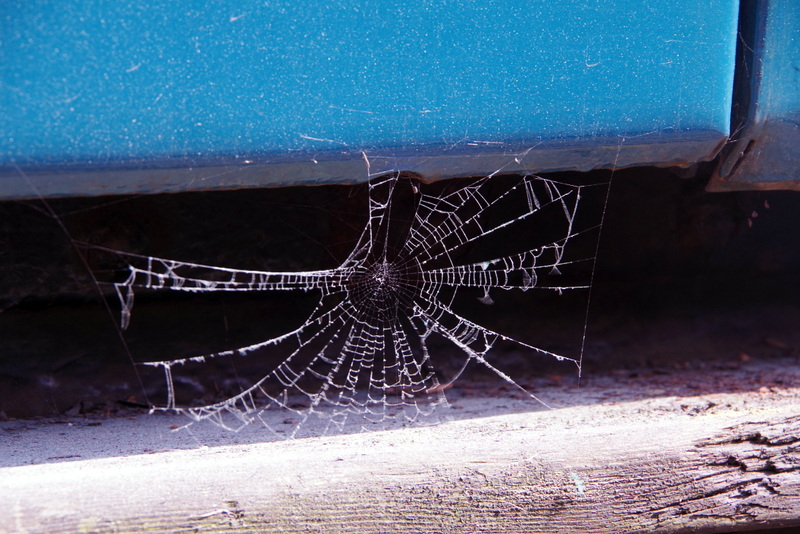 Class 105 Cravens vehicle no. 56456 (undergoing restoration at Llangollen)
The first wall panel was fitted in the rear compartment...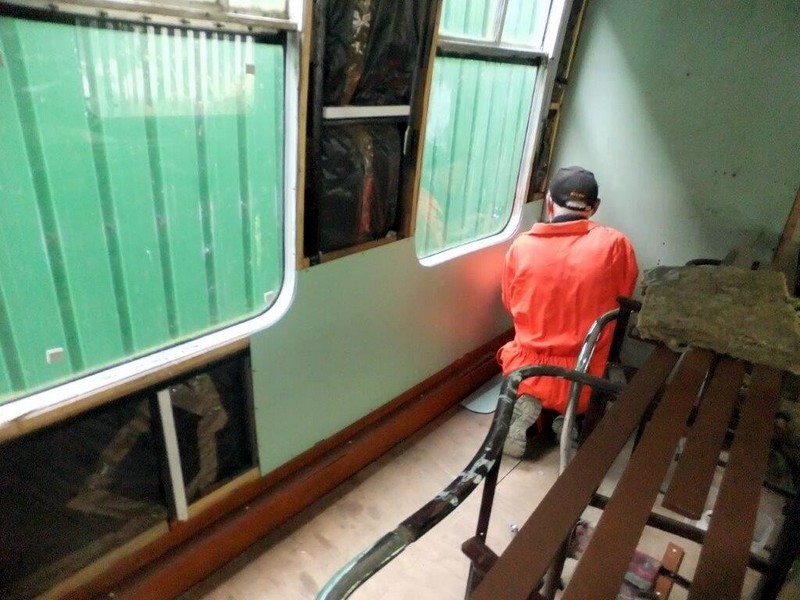 Class 108 51933/54504
Aside from the removal of the graffiti, which has already been reported above, the class 108 needed a repair to its no. 2 exhaust which put up a bit of a fight and required a trip to Halfords for some bits and pieces.
Class 127 vehicle no. 51618 (undergoing bodywork repairs at Llangollen)
The work to repair the bodywork continued along the secondman's side where it was decided to renew a complete panel instead of fitting multiple patches - something that is likely to turn out to be easier and better in the long run. Having removed the panel, it came as no surprise that the framework will also require some attention...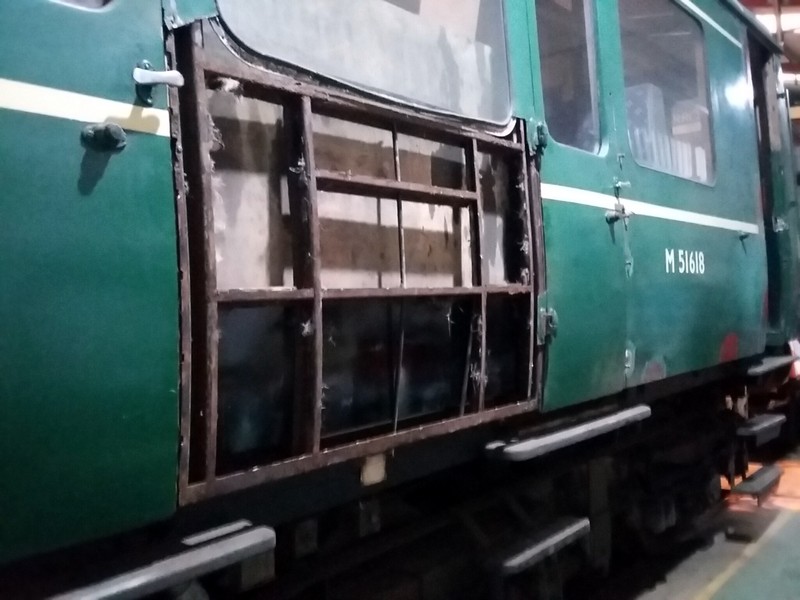 As a trial, a door panel was cut and then viewed from near and far...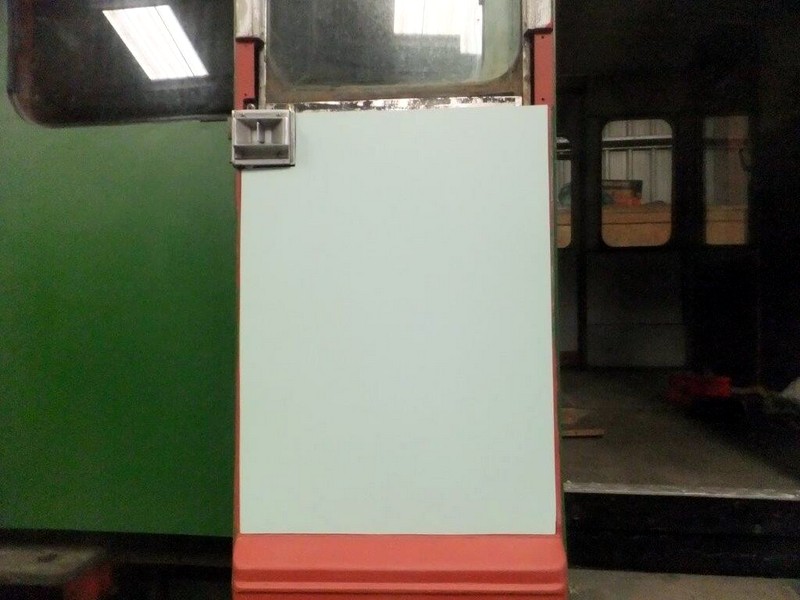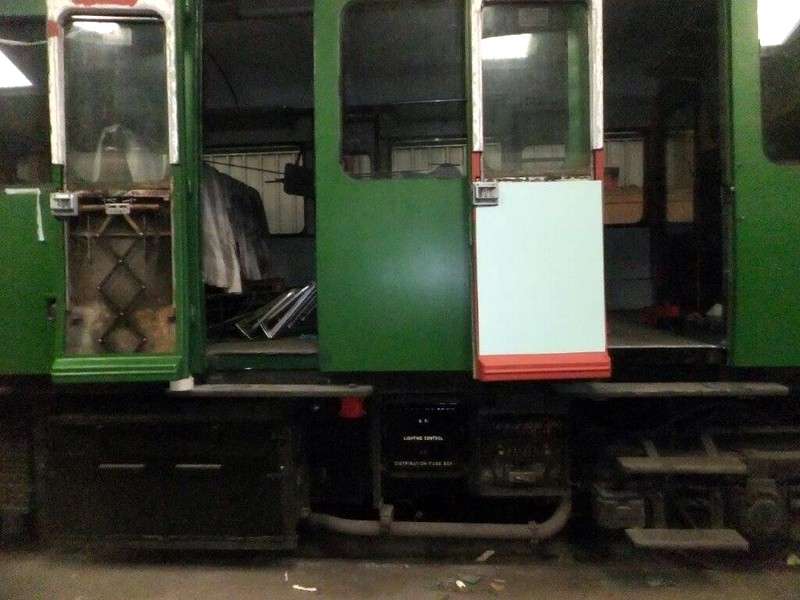 Class 100 trailer car no. 56097 (undergoing restoration at the Midland Railway, Butterley)

The job to remove, reseal and refit the roof vent plates was completed and then attention returned to the inside with the installation of a couple of wall panels in the first class section...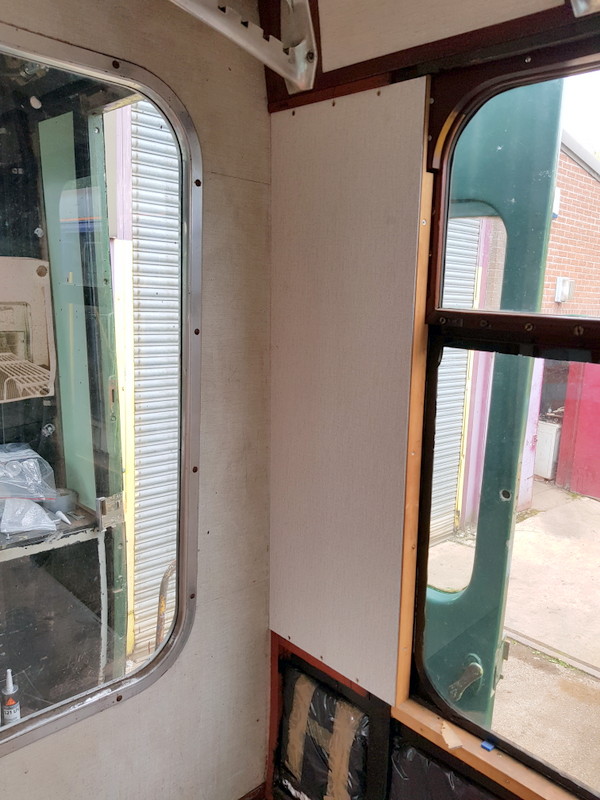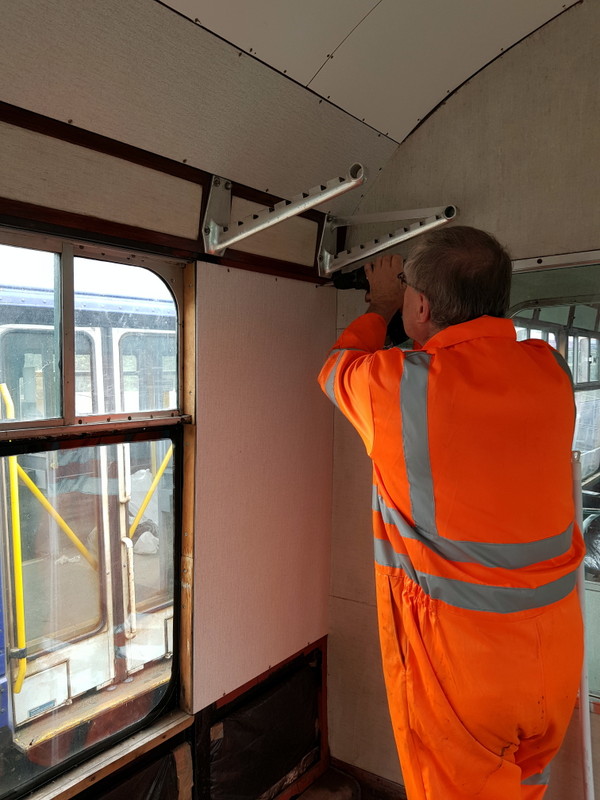 Thanks to Allen Chatwood, Jim Jeffrey, Mike Martin and Graham Parkin for supplying the pictures.