56097 DTC - Class 100
BR History
This is one of three survivors of a total of 40 class 100 power cars built for the Scottish and London Midland Regions by the Gloucester Railway Carriage and Wagon Co. in 1957.
When British Railways commenced building diesel multiple units in 1954 lightweight construction had to be employed due to the limited power available from contemporary diesel engines. BR's own units extensively used aluminium to keep down weight but when outside contractors were invited to construct units to a roughly similar outline other solutions were offered.
The GRCW cars were constructed to a semi-integral design in which some of the load was taken by the steel structure of the coach sides and by the floor, thus enabling the elimination of a conventional chassis and lighter construction. The method of construction was unique to these cars whichhad a quite distinctive appearance and were readily identifiable due to their sharply raked in bottom body sides and unusual roof arrangement. Two batches of 20 each of these vehicles were built and our example is from the first batch, having only one marker lights in the centre above the cab windscreens, an arrangement which meant that it always required an oil tail lamp to be used on the trailing cab.
By the time these vehicles were delivered BR had refined its own "lightweight" design and did not order any further vehicles to this pattern. Over time the Gloucester vehicles suffered from corrosion problems, particularly under the windows, which were prone to admitting water into the body sides and were one of the classes slated for withdrawal as line closures accelerated during the late 1960s.
Our Gloucester trailer car, 56097, has had a remarkable history; 15 years in main line service followed by 18 years on heritage railways and finally a further 21 years in storage. Its restoration is currently ongoing and subject to finance.
Gloucester Co records show that 56097 left the works in plain green livery with cream stripes on June 21st 1957 as Sc56097 and was paired with power car 50342.
Although destined for the Scottish Region, it was at first temporarily loaned to the London Midland Region and based at Longsight Depot in Manchester. It was then moved to to 64A Edinburgh St Margaret's where, from February 1958 it was used for the launch of diesel services on the suburban system, starting with the Corstorphine-Waverley-North Berwick route and the Galashields-Peebles-Waverley service. Services were extended to the Princes Street-Leith and the Mussleburgh routes later in the year.
With its power car it moved on to 61A Kittybrewster, Aberdeen, by 1962 and appears to have been only Gloucester set allocated there. While in the Aberdeen area the set was noted as being used on the Ballater branch when the usual battery-electric set was out of traffic.
By 1965 it had joined other Gloucester sets at 66C Hamilton and then moved on to 64H Leith Central in 1966 where by this time most of the remaining sets were allocated. 56097 spent the rest of its service life at Leith Central and was withdrawn from there in October 1972.
Early Preservation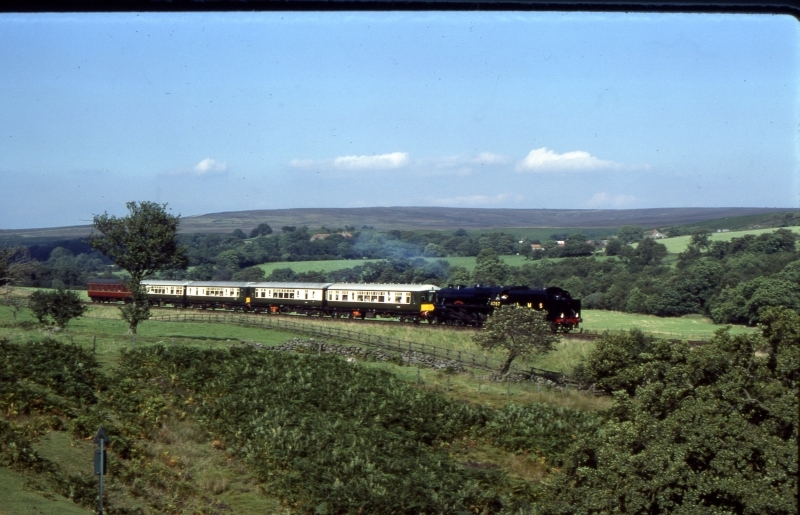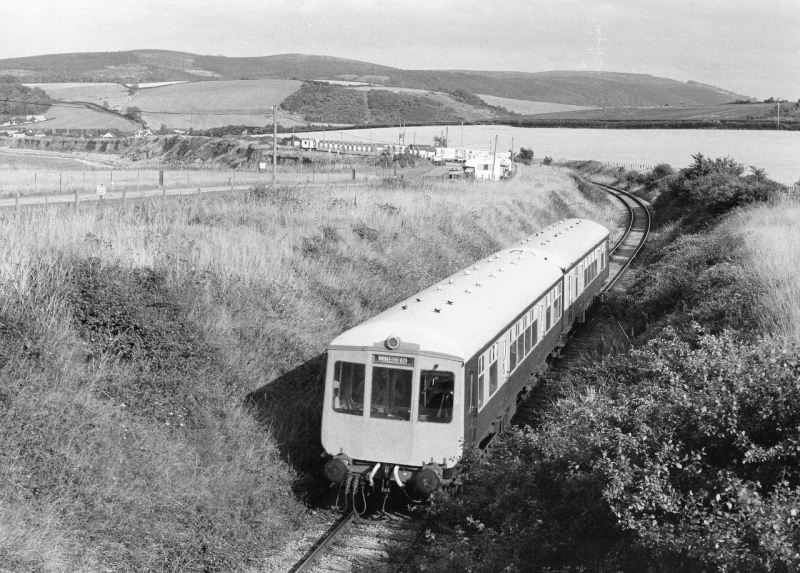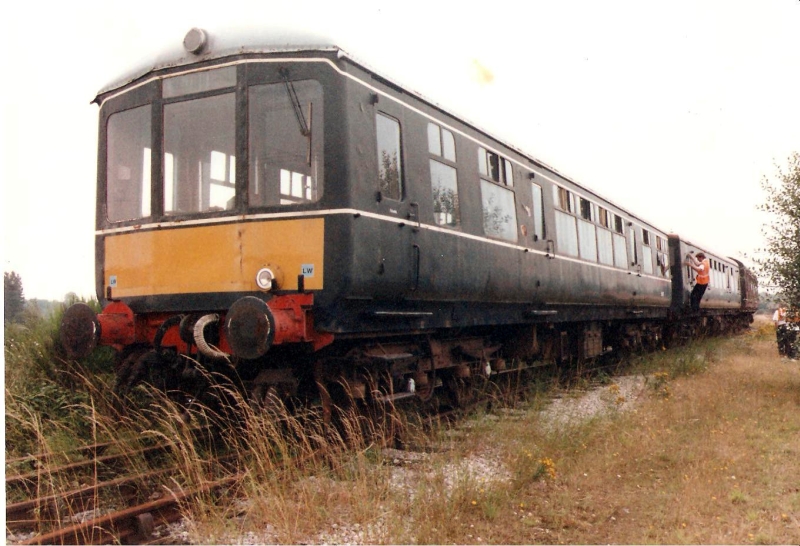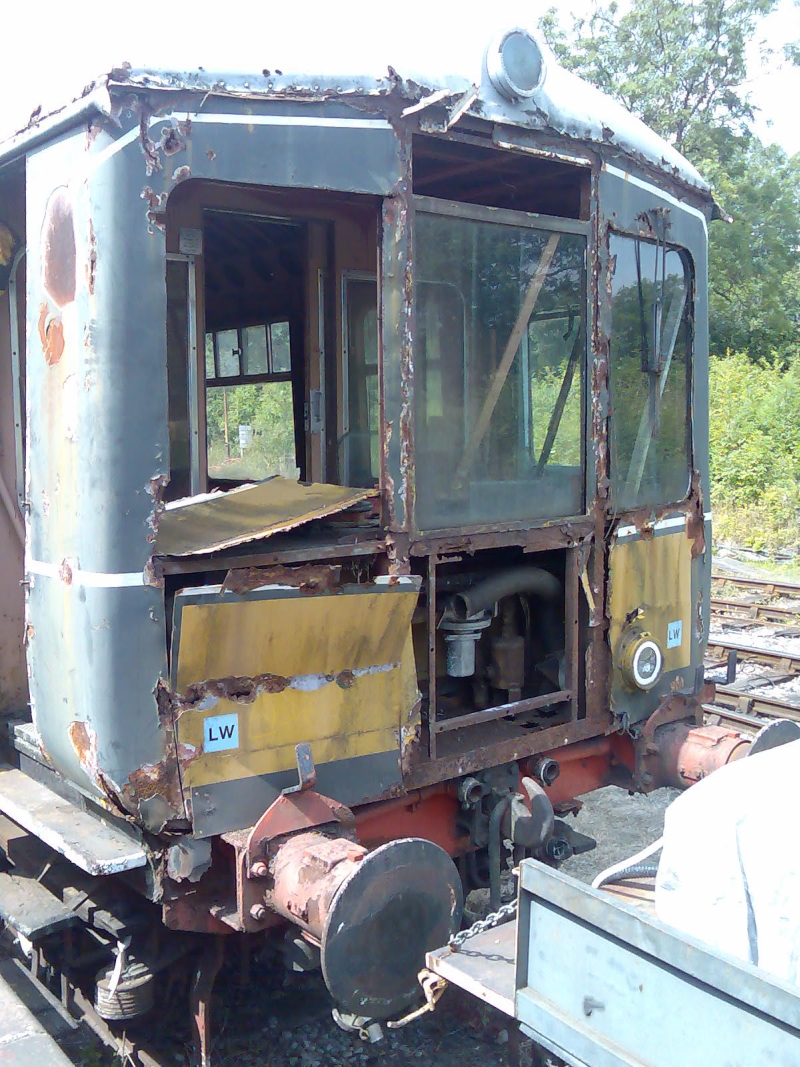 The heritage North Yorkshire Moors Railway, based near Whitby in Yorkshire, had recently purchased a second Gloucester power car from Norwich, but had only one trailer, and so they purchased 56097 to make up two two-car sets, and this arrived at the NYMR in February 1974.
Its first day of heritage railway service was Saturday 6th April 1974 when it was coupled to power car 51118 which was to become its new long-term partner, but it had an inauspicious start, slipping to a stand on Goathland bank and having to be banked by a steam locomotive. Later in the day it was removed from service so that the two power cars could be worked together.
For a time the unit remained in BR blue but was soon painted in a version of the LNER tourist livery featuring light green lower panels and cream upper body, a livery carried by both of the line's DMUs at that time. During this period it also carried the number S11.
In early Summer 1980 the two sets were painted in a darker green and cream livery with small yellow panels and 56097 had its two-character headcode box removed as part of repairs. The units were often used as hauled rolling stock at that time, sometimes as a four-car set and sometimes with Mark 1 coaches added behind.
As more coaches and locomotives became available and the units became more expensive to repair the decision was taken to dispose of them and 56097 and its adopted power car, 51118, were moved to the Swanage Railway in March 1985, but were quickly moved on to the West Somerset, arriving there in July 1986.
While at Swanage the set saw regular use and its livery was modified so that the lower panels were brown and a full yellow end was incorporated. By this time severe corrosion was evident on the bodies, which led to the sister set, which had followed from the NYMR, being cut up for scrap.
By 1991 the Gloucester set was still in service and often used in multiple with other heritage units, such as Park Royal and Cravens but increasing unreliability and poor condition led the WSR to take the decision to set them all aside in favour of a fleet of recently-withdrawn Class 115 units. 56097 was repainted in green around this time, and was lined out with cream lining. A half-yellow warning panel was also added.
In August 1995 this coach was on the move again, this time for storage at the disused sidings of Richard Johnson, Grain Merchants, of Snetterton, Norfolk where stock for a proposed "National Railcar Museum" was being kept. However nothing came of this project and the vehicle continued to deteriorate with concerns over possible leakage from the sprayed blue asbestos insulation coming to the fore during that time.
Almost three years later, in July 1998, ownership of the set passed to Llangollen Railcars on the strict understanding that the asbestos issue would be dealt with and as a result it was moved to the Midland Railway Centre where a contractor removed all the asbestos lining – a process which left both coaches as a stripped out shell.
Current Preservation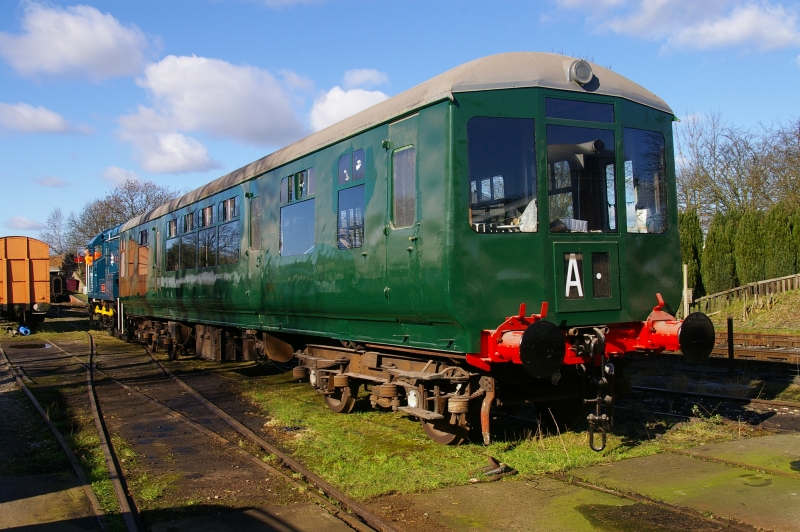 56097 and 51118 remained in storage, mostly at Swanwick, for a further 13 years until, in 2011, some preventative work was done on the bodyshell. A full rebuild of 56097 was commenced in August 2011, which is making steady progress.
Since then virtually all the external sheeting has been renewed, many of the main frame members have been renewed or repaired and the load-bearing lower side box sections have been rebuilt. This work has been very comprehensive and has even involved fabricating new corner posts to the original design.
Driving Trailer 56097 was rolled out of the shed at Butterley following two years of work to replace and repair corroded bodywork. This is the first time that anyone has been able to see what the complete vehicle looks like now that it has been externally completed. Around 60% of the vehicle's outer skin and 40% of the framework has had to be replaced, along with all the glass which has changed for a more modern and safe variant. Work will now continue to begin the interior fit out but finance dictates that this will be restricted to the ceilings and floor for the moment.
No date has been set for the completion of the work on this vehicle.