50454 DMBS - Class 104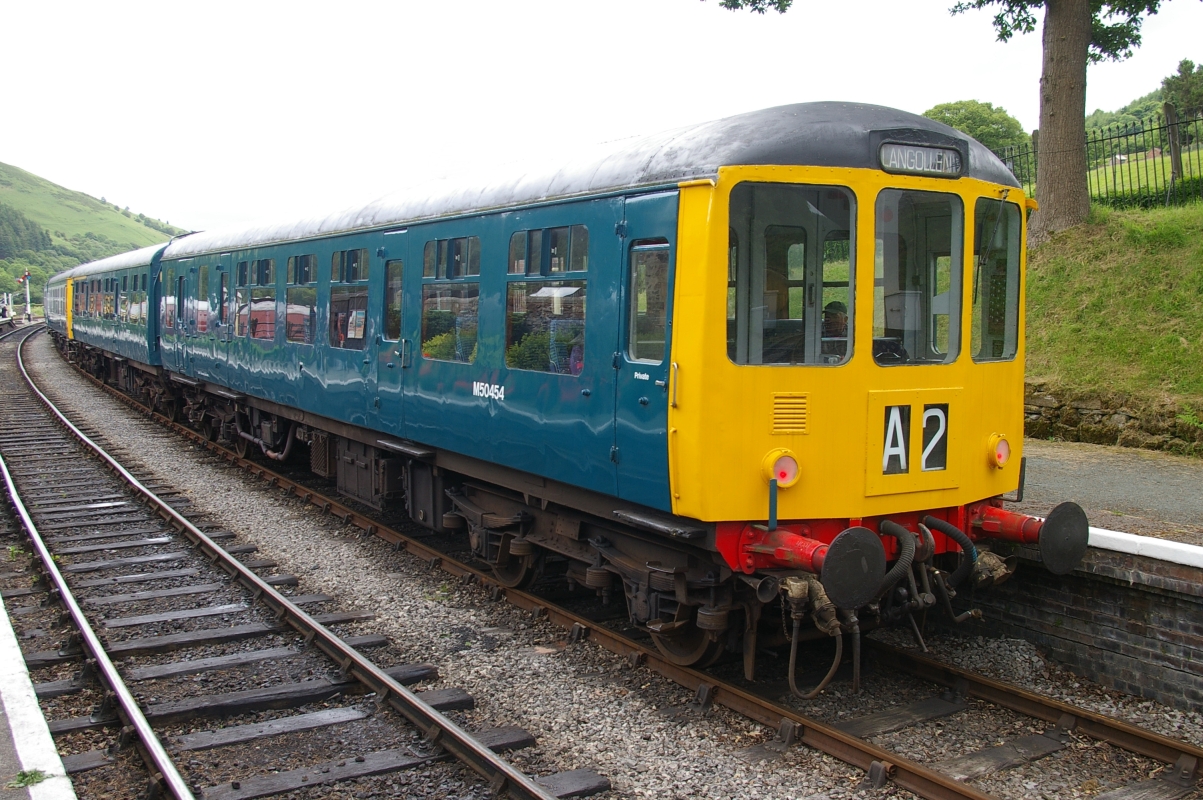 BR History
In 1955 when British Railways decided to introduce Diesel Railcars on a wholesale basis the railway's own workshops lacked the capacity to produce all the 4,500 vehicles required. Instead a rough specification was drawn up and outside manufacturers invited to tender for the work. One of those successful was the Birmingham Railway and Carriage Works which decided to build its vehicles in steel and to use doors and windows which were very similar to the Mark One rolling stock which was then being produced. They built two-car, three-car and four-car versions which were split between the Eastern and the London Midland Regions.
Delivered in October 1957 in lot no 30293 this vehicle, 50454, is a Driving Motor Brake and was part of a batch of 51 three-car sets for the London Midland Region. It was originally allocated to Longsight Depot in Manchester (9A) but by 1968 it was at Buxton (9D) where it was employed on Buxton-Manchester trains. Although its original partners were centre trailer M59162 and Motor Composite M50506 this vehicle worked for much of the latter part of its life with its current partner M50528. It was one of the last 104s in service and worked many of the farewell trains.
It is powered by two Leyland 680 150hp engines, driving a fluid flywheel, a freewheel and a Wilson epicyclic gearboxes.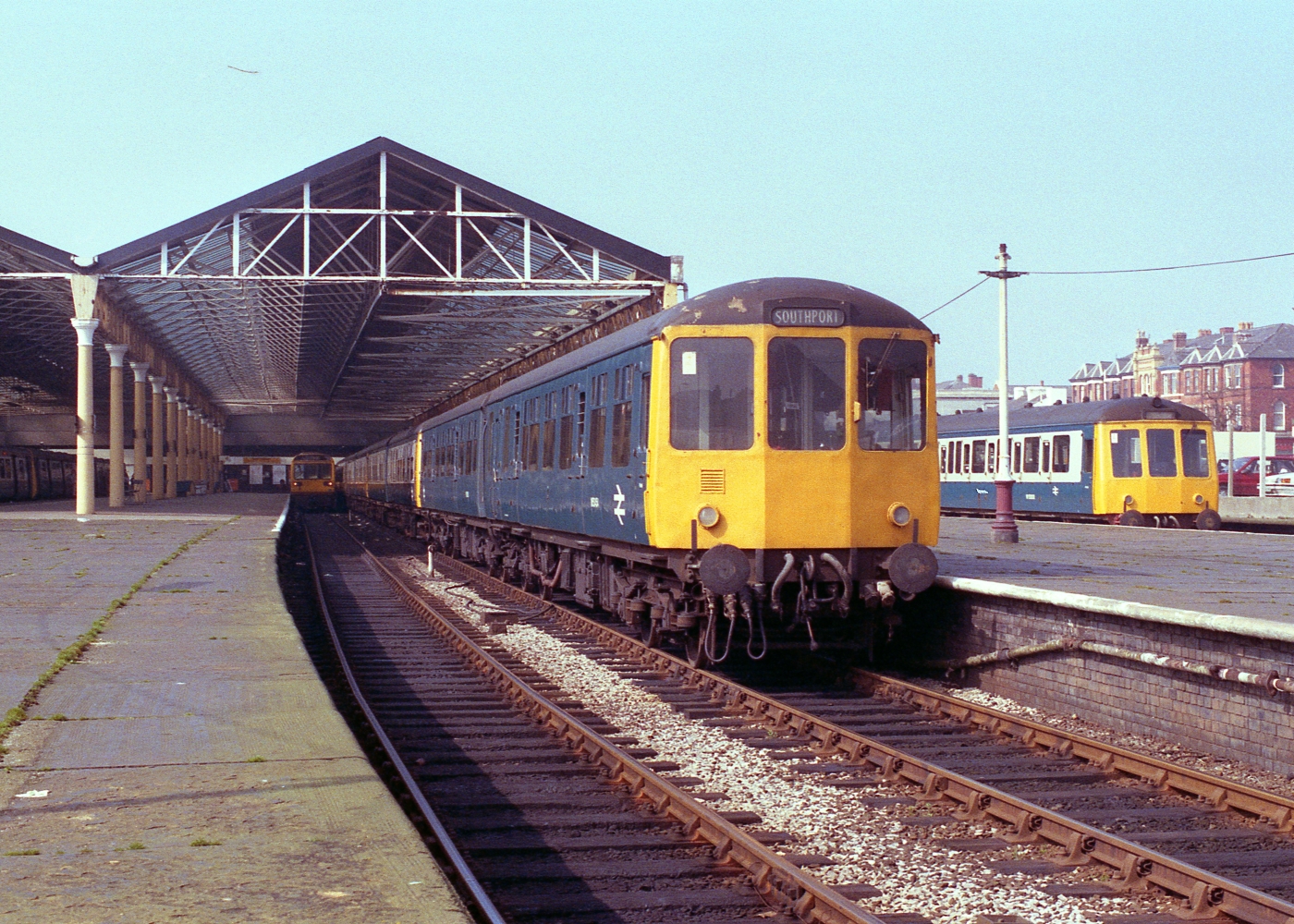 Early Preservation
50454 was saved for preservation in 1993 and, after some restoration, ran in blue livery with full yellow ends and no headcode panel. Following that it gained the Blackpool "white stripe" livery for a season before being painted in lined green following heavy refurbishment in 1994, at which time its headcode box was replaced.
During 2007 this vehicle was fitted with a new cab after the original became so rotten that it was unable to be repaired. The replacement is, however, difficult to distinguish from the original except that it has full-working route indicator blinds fitted. In the winter of 2008/9 much of the skin of the bodywork was replaced and, after this rebuild, it was turned out in the 1964 livery of blue with a small yellow warning panel.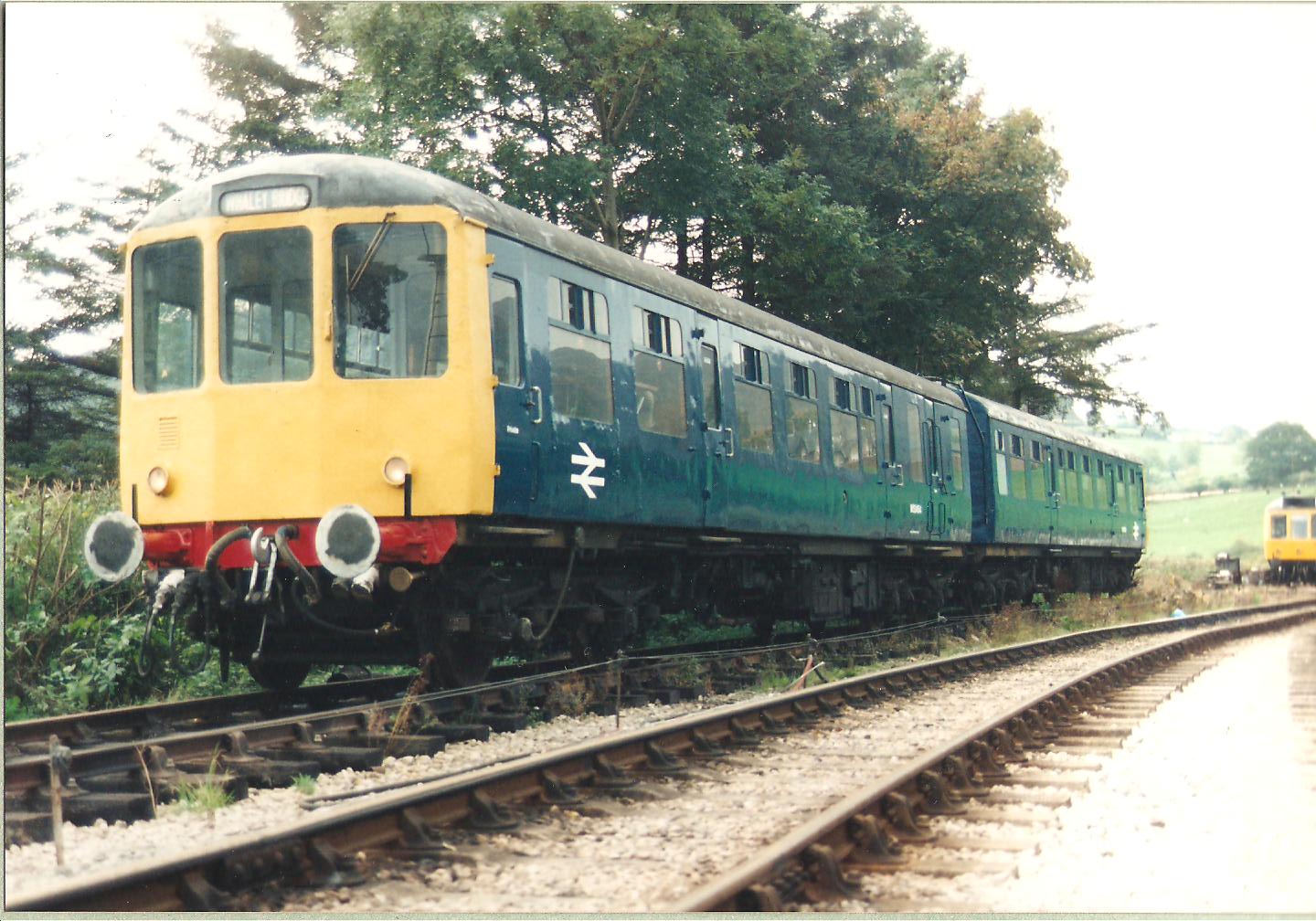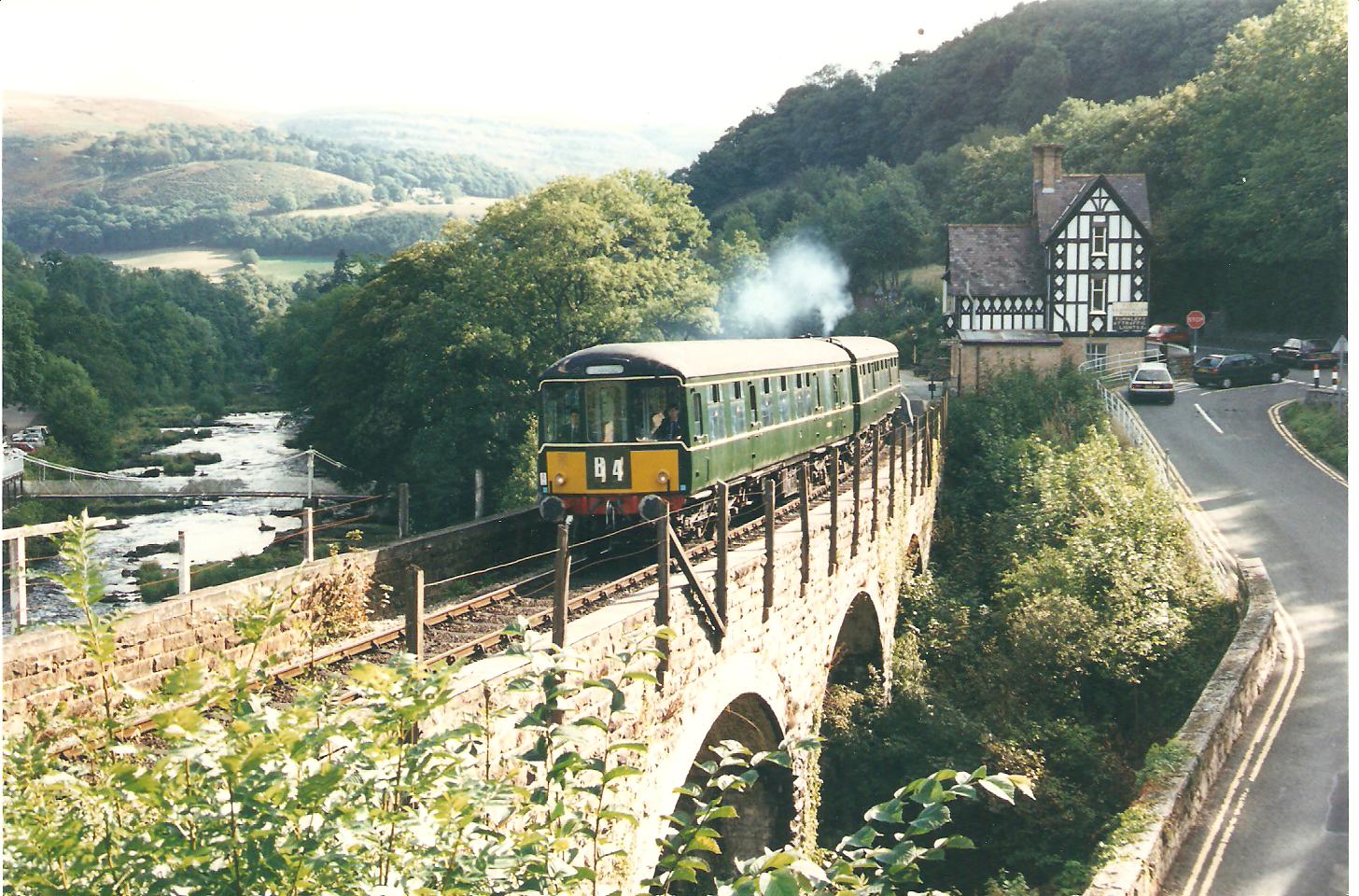 Current Preservation
A further repaint followed in 2014, along with an interior refurbishment, and this time the livery adopted was all over blue with full yellow ends.
This train has covered some 35,000 miles on the Llangollen Railway since it arrived in 1994 and has seen service on every year bar one, when it was under repair. It is extremely popular with enthusiasts due to the unique noise made by its exhausts.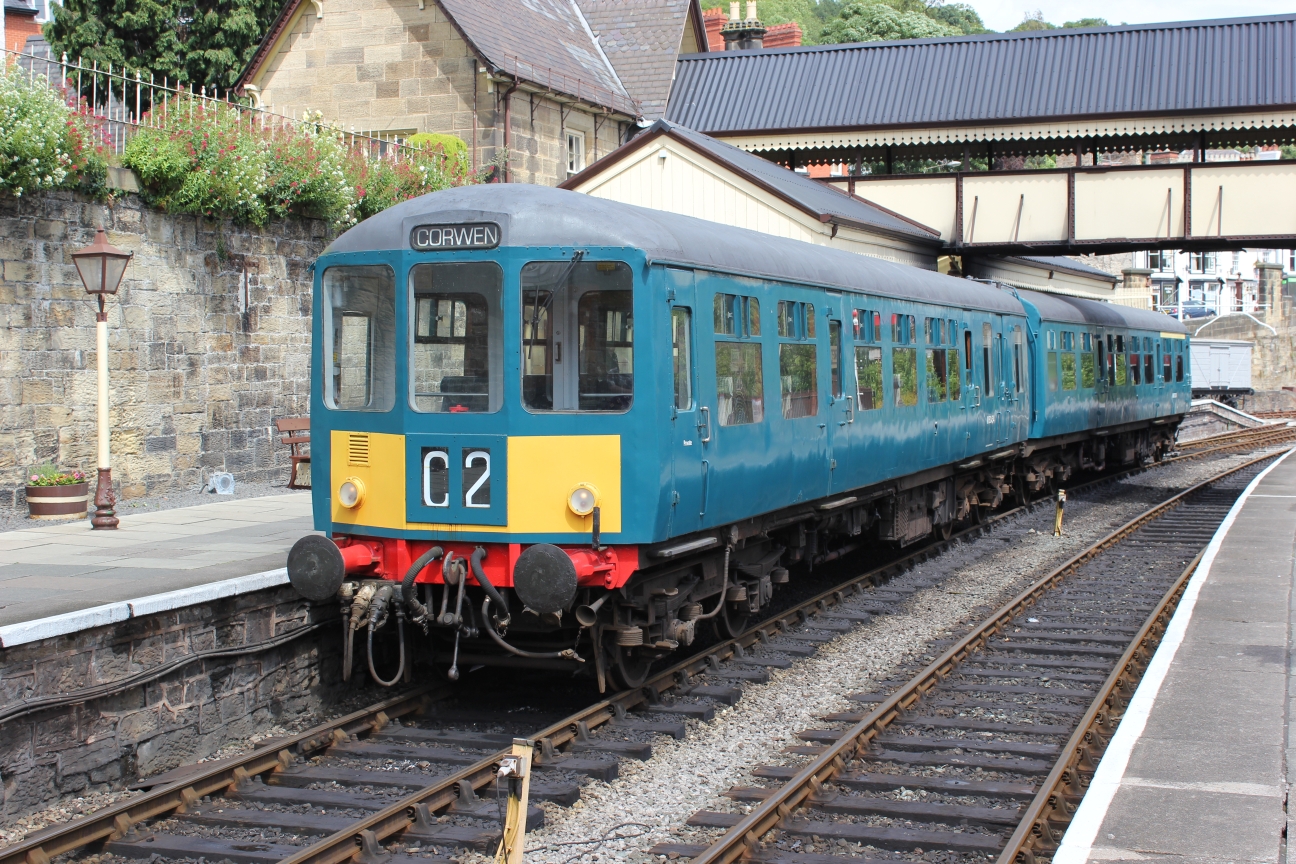 Interior
As it was withdrawn in unrefurbished condition this vehicle retains its wood panelled interior, tungsten lighting and high backed seating.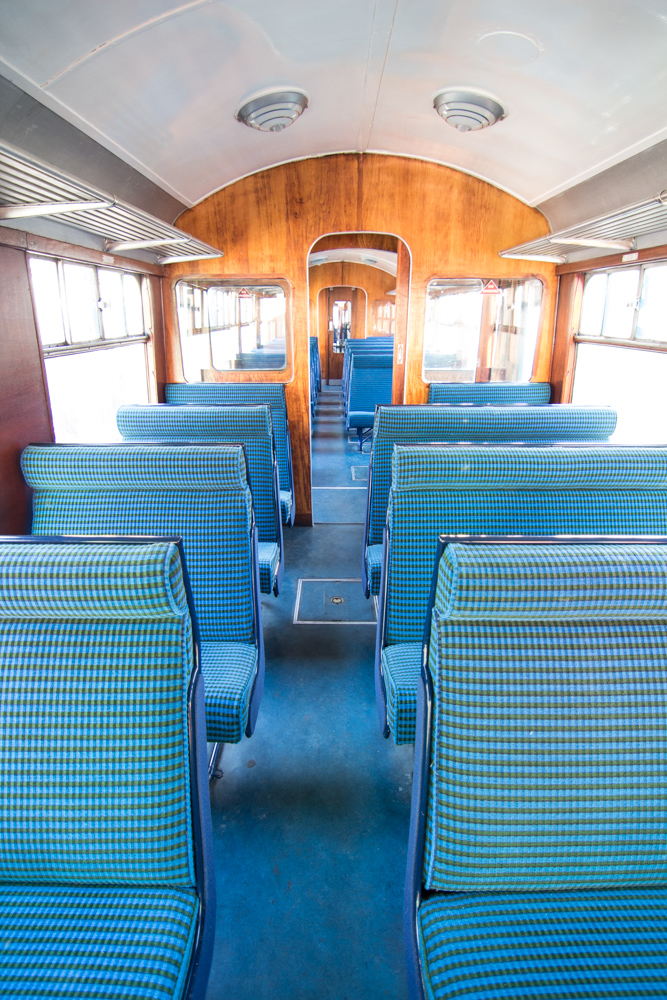 Cab
The cab is similar to the other first generation units, but has many of the controls mounted ontop of, rather than flush with the drivers desk giving a better view of them.