50447 DMBS - Class 104
There is a third Class 104 vehicle in the collection at Llangollen, but so far it has never run in traffic. Driving Motor Brake M50447 arrived at Llangollen in 1994, one year after it was withdrawn from mainline service. It was immediately pressed into service as a headquarters coach for the newly-formed DMU Group and remained on those duties for around 15 years, during which time some of its parts went to keep sister vehicles 50454/50528 in working condition. Following the Group's move from Glyndyfrdwy to Pentrefelin Sidings the increasing size of the membership meant that a Mark 2 coach was purchased for use as a headquarters and office and M50447 was relieved of these duties.
A decision was then taken to restore this vehicle as a spare power car for the Llangollen fleet with work initially commencing on the engines, which have both been brought back to running order. Gearboxes and other components are also in hand but the most work will be required on the body which will require to be completely rebuilt. Currently components from other rebuilds are stored in the vehicle, which is still being worked on as time allows.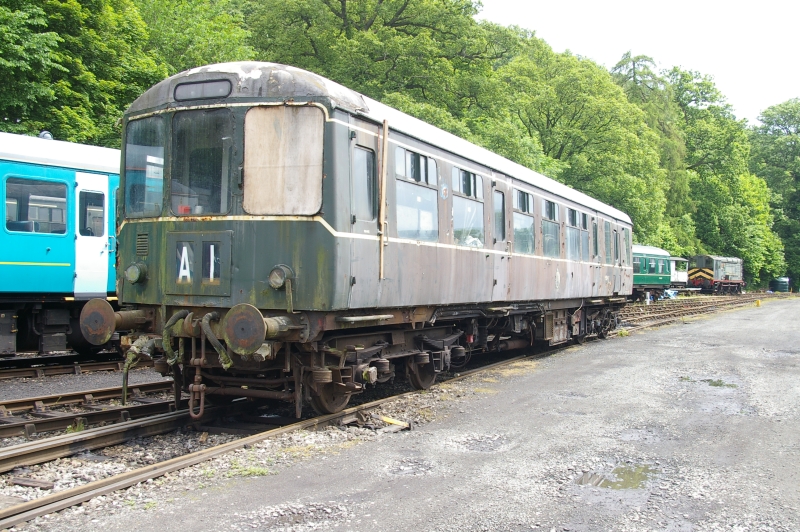 M50447 was built by the Birmingham Carriage and Wagon Co in 1957 as part of Lot no 30293. As a part of a London Midland three-car set it was fitted with a varnished wood interior (Eastern sets had Formica) and was one of those used to eliminate steam on duties in the Crewe area. Equipped with two Leyland 680 engines it is mechanically identical to other Class 104s in the collection. The body has a similar profile to the Mark 1 coach and utilises a similar method of construction.
M50447 was delivered to the London Midland Region in September 1957 and was part of a set with M59155 (a centre trailer) and M50499 (a Driving Motor Composite) originally allocated to 5B (Crewe South). By 1959 it was at 5D (Stoke) and moved on to 16C (Derby) by 1967. Later in its life it moved on to 9L (Buxton), by this time numbered 53447 to avoid confusion with new locomotives being built in the 50XXX series. It was withdrawn in 1993.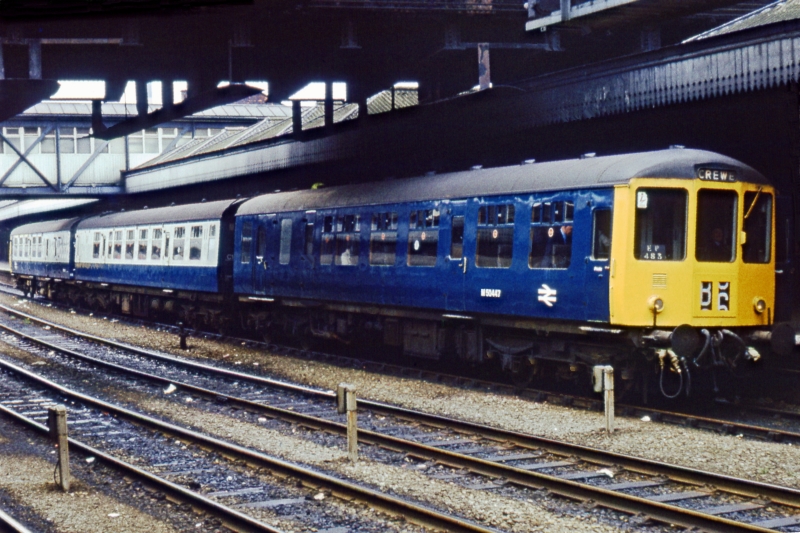 Originally painted lined dark green this vehicle later acquired the distinctive "speed whiskers" which were then superseded by the yellow warning panel, covering half of the vehicle end. In later years it was painted blue with an all-yellow end and it was in this livery that it was delivered to Llangollen. It was painted (on one side only!) in BR green when stabled at Glyndyfrdwy and remains in this scheme today. Recent work has included replacing all the ventilator blanking plates on the roof and making it watertight. The roof has also received a couple of coats of paint primer.